In cash terms, how much deposit will you need?
To work out how much you will need to save for your mortgage deposit in cash terms there are a few things you should consider:
1) Typical property prices in your area
You can get a rough idea of local house prices from property websites like Zoopla and Rightmove as well as speaking to estate agents in the area. Keep in mind that the amounts you will see on these websites are asking prices so they might be a bit higher than what the property is actually worth. To get a more concrete view you can check how much homes in the area have sold for using the Land Registry's price paid tool.
2) How much can you afford to repay each month?
Mortgage rates are constantly changing, and you might find that the right deal for you isn't the one with the cheapest rate. Instead, you will need to consider other factors like upfront fees, early repayment charges, and minimum and maximum terms. It's easy to find typical mortgage rates online as a lot of comparison websites will have them. From there you can understand how much your monthly payments would be based on different interest rates using an online mortgage repayment calculator. If you cannot afford the payments for a low-deposit mortgage you will either need to save up a bigger deposit or look into any schemes you could use such as Help to Buy.
Can you get a 5% mortgage?
Whilst it is technically possible to get a mortgage with a 5% deposit of the property's value, in the current market it is more likely you would need a 10% or even 15% deposit. This is because many lenders have withdrawn their low-deposit deals issues in the UK economy as a result of the coronavirus pandemic. Here is an example of how much cash you would need to offer for a £200,000 property, based on different deposit sizes:
5% deposit= £10,000

10% deposit= £20,000

15% deposit= £30,000
What are the benefits of saving a bigger mortgage deposit?
Even though 5% is the minimum and you may be able to get a reasonable mortgage deal with that amount there are benefits to saving up a bit more if you can.
Cheaper monthly repayments – whilst this may be an obvious point it's still worth mentioning because the bigger your mortgage deposit the smaller your loan will be. The smaller your loan is the less you will have to pay back each month which will be advantageous to your finances in the long run.

Better mortgage deals – a larger deposit will make you seem like a less risky prospect for mortgage lenders and as a result they will usually offer you lower interest rates. For example, 90% mortgages are typically priced around 0.7%-1% cheaper than 95% deals.

Improve your chance of being accepted – all lenders will conduct affordability checks to calculate whether you can afford the mortgage repayments based on your income and outgoings. If you only put down a small deposit it is more likely you will fail the checks because you will need to spend more on your mortgage every month.

Larger buying budget – lenders will usually offer a loan of up to four and a half times your annual salary. Therefore, if your salary is quite low and you can't borrow enough, you might need a bigger deposit just to make up the value of the property.

It's less risky – if you own more of your property outright you are less likely to end up in 'negative equity' (where you owe more money on your mortgage than your property is worth). Being in negative equity can make it extremely difficult to switch mortgage or move to a new house.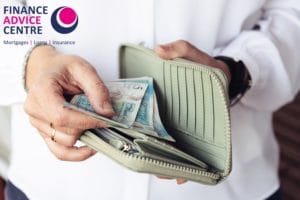 How much are first-time buyers in your area putting down for a deposit?
Research has shown that people in London and the south-east of England pay much higher deposits than the majority of other areas in the UK. In part, this is because house prices are typically significantly higher in these areas, and as a result even a 5% deposit could need a savings pot of about £20,000.
What options are available if you're struggling to save?
If you are struggling to save up a big enough deposit for your first home, you don't have to worry or feel hopeless that you'll never be able to buy your own home. There are options out there that can give you a helping hand if needed.
Help to Buy equity loan – with this scheme you put down a 5% deposit down and the government lends you up to 20% in England and Wales, 40% in London or 15% in Scotland, and then you get a mortgage to cover the rest of the price.

Shared ownership – this means you buy a share of the property and pay rent on the rest.

Buy a house with your friends – this option does come with some risks, but it works out well for many people in the right circumstances.

Get help from your parents or family members – this doesn't necessarily mean they have to give you the cash for your deposit as a gift. They can use their savings or property as collateral against your mortgage.

Lifetime Isa – this is a savings account that offers a 25% bonus from the government. However, you need to be under the age of 40 when you open it, and you can't access your savings or the bonus until you have had the account for a minimum of a year.
What is a 100% mortgage?
A 100% mortgage is one that covers the full cost of the house, meaning you don't need to put down any deposit at all. The only kind of 100% mortgage you can currently get today is a guarantor mortgage. This is where a family member takes on some of the risk of your loan by offering up their savings or home as security in the event that you don't keep up with your mortgage repayments. There are few of these deals available on the market and they carry a substantial risk of negative equity. So, if you are thinking of going down this route you and your family should speak to a professional mortgage adviser or broker, such as those that Finance Advice Centre can provide, before applying. 
If you need any financial advice, contact Finance Advice Centre on 0800 103 2655.
As a mortgage is secured against your home or property, it could be repossessed if you do not keep up the mortgage repayments.